Features:
Pro Features:

Requirements
Suggest a Feature
Tuner

Having trouble diagnosing your karts handling characteristics?
Not sure what adjustments to make?
Now you no longer need to second guess what to do!
KartTuner will help you figure out what your kart is doing and what changes you need to make to dial it in. The tuner function provides you with helpful assistance in diagnosing handling characteristics as well as adjusting your kart's handling.
The KartTuner database has been filled with information from various sources as well as our own personal knowledge gained over more than 10 years of racing. As with all the functions in the kart tuner app, it is designed to be useful for everyone from beginner to expert drivers.
"We had a club race last weekend and I used it to help some of the newer drivers. They all said they liked it and I was surprised that it helped most of them describe the problems as much as fix them... We were able to solve their issues much quicker by having correct info."


- Bob Francis, Pats Acres Racing Complex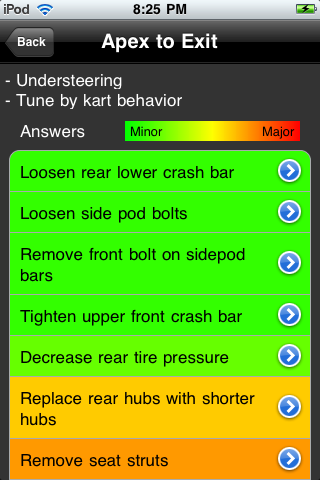 Tune by kart behavior
In the Tune by Kart Behavior section, the app will take you through a series of questions regarding the handling of your kart (e.g., the kart feels like it doesn't want to turn) to help you determine the most effective adjustment to make.
The tuner will also rank each available adjustment by color coding the changes from a minor change (green) to a major change (red).
Tune by type of change
This more advanced method lets you select the type of change you wish to make (e.g., front track width) and provide information about the types of changes that are available on your kart, as well as the adjustments expected handling change.
KartTuner Pro Integration

For KartTuner Pro users, the Tuner is integrated with your Kart Settings data. Simply drill down into your desired change and tap the 'Log This Change' button. KartTuner will redirect you to the appropriate settings page where you can enter the details of the change.
Gear Chart
»